Trak Racer TR8 Pro Upgrades
By gathering feedback from the most popular rig on the market, the TR8 we have released the updated TR8 Pro which has the following improvements and improvements to packaging to ensure the item reaches you as it should.
Strengthened Pedal Plate - 
More Adjustable and Strengthened Wheel Mount - 
More Adjustable and Strengthened Left or Right Side Shifter Mount - 
Complete Overhaul of Integrated Monitor Stand (optional sold separately) - 
Trak Racer TR8 Pro Overview
Direct Drive & Belt Drive Wheel Ready!

Compatible with PC and Console

Compatible with all popular steering wheels, pedals, and shifters on the market

Stiffened Dual-Supported NO FLEX Wheel Shaft

Integrated Single Monitor Stand to support displays up to 70" (Optional)

Superior build quality, stability, and comfort

Improved Left and Right-Side Gear Shift mount with pre-drilled mounting points and slide

Reinforced Angle and Distance Adjustable Pedal Mount, suitable for all the big brands!

Designed and Engineered in Australia
Frame/Chassis Features
Solid framework with no obstruction between your legs and no wheel side supports required

580mm wide for firm stance when racing

Low ground clearance with hard wood rubber floor protectors

Finished in 2"(51mm) high-grade steel tubing
Integrated Single Monitor Stand Features (Optional)
New Solid Mounting with Distance and Height Adjustment

VESA Mounting Bracket

Optional - Triple Monitor Mount (SKU TR-TR8-M)

Optional - Large VESA Extension Mounts (SKU TR-80)
Adjustable Wheel Mount Features
Unique and Rigid Distance Slider with Angle Adjustment

Solid construction to support Direct Drive Force Feedback Systems up to 35nm of Torque

Pre-drilled mounting points for all major brand wheels

3-Point Adjustment allows you to adjust the height and angle of the mount
*Patent design

Adjustable Pedal Mount Features
Fully adjustable bracket for both angle slide

Forward and Back Distance Slider

Welded steel frame on the underside of the mount for added strength

Pre-drilled mounting points for all major brand pedals including
Reinforced Left or Right-Side Mounting Gear Shift Mount Features
The Distance Slider mount allows you to adjust the position of the mount to the most ergonomic position for you

Angle Adjustment enabled you to face the shift mount inwards, flat, and outwards for customized adjustability

Pre-drilled mounting points for all major brand shifters including Thrustmaster TSS, Fanatec Clubsport, and more

Optional - Integrated Handbrake Mount
What's Included
2" Industrial Strength Iron Chassis

Fully Adjustable Angle Pedal Mount with Distance Slider

Premium Seat Sliders

Left/Right Mounting Gear Shifter

Angle, Slide, and Height Adjustable Wheel Mount

Bucket Seat Mounting Brackets

Tools and screws included
TR8-06-B-PART1
TR8-06-B-PART2
SA-10
*Electronics and Monitor Stand are not included
 
Strengthened
Adjustable Pedal Deck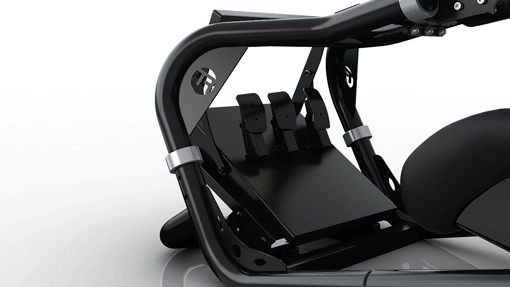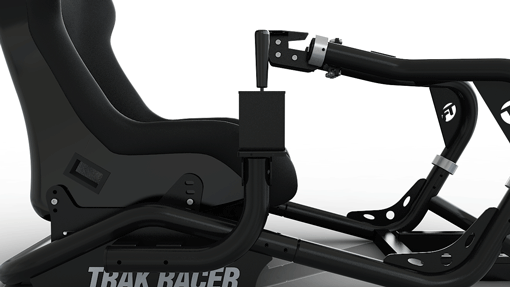 Improved
Adjustable Gear Shifter Mount
Mounts on Left or Right Side!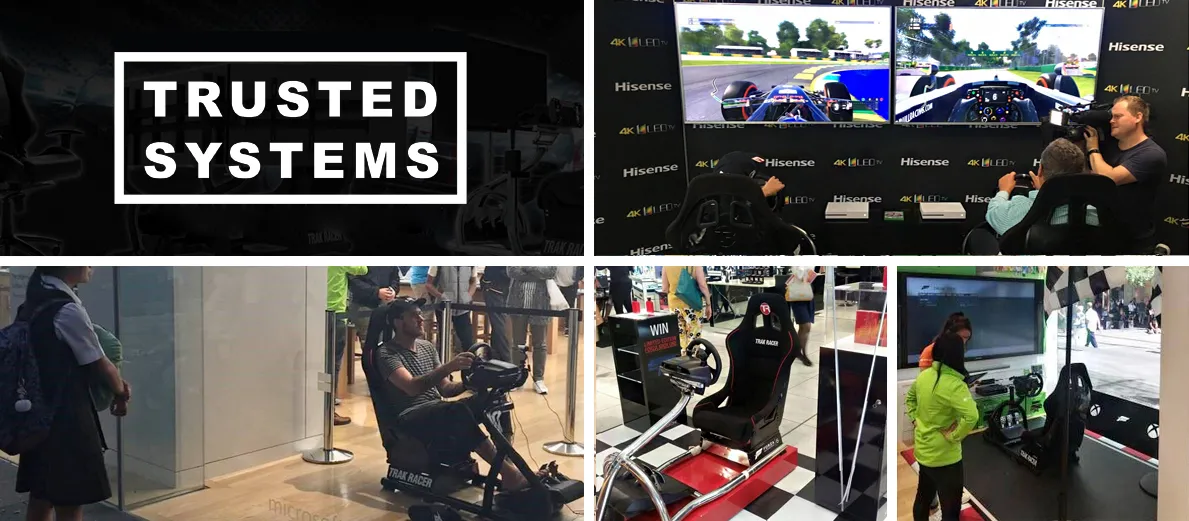 Your Competitive Edge Against the World's Elite